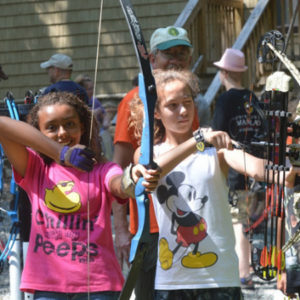 Archery is said to be a "life sport"—that is—something you can do as a family and enjoy for life. As people get more involved, they can always find a new challenge in the sport.
Our members and their accompanying guests may use our archery range year-round. The archery range has fixed targets at 20, 30, 40 and 50 yards. The archery range is available to all Members who have completed the Chapter's Range Safety Training.
2020 Summer Archery Program
Our summer archery program runs on Sundays—June 7 through August 9, 2020 (except Sunday, July 5). The program will run in two sessions.
Session 1: 12:30 p.m. to 2:00 p.m.
Session 2: 2:00 p.m. to 3:30 p.m.
IWLA-R members: Open to children ages 8-18 and adults: $50/per person
Non-ILWA-R Members: Open only to children ages 8-18, no adults: $75/per person
Registration is a first-come/ first-serve basis.
Before registering make sure that you're available to attend the MANDATORY safety training on Sunday, June 7. All participants—child, parent, and/or legal guardian—must attend the safety training, no exceptions.
During the archery sessions, a parent and/or legal guardian must be present at all times with children 12 years old and under.
Registration Opens March 1 for IWLA-R Members
Registration Opens April1 for NON-IWLA-R Members
Everyone Has Fun at Summer Archery