It is impossible to make any area safe due to the COVID19 virus. Therefore, if you are in the high-risk category—or if you have additional underlying health issues—please continue to stay home. If you do come to the chapter property for outdoor activities, only members from the same household are allowed on the property at this time. We are cancelling ALL group activities until further notice. This includes General Membership, Board of Directors, and New Membership Orientation meetings as well as other group meetings. The Chapter property and trails are available for walking, hiking, and biking. The lake is open to fishing. The archery and shooting ranges are now open for MEMBERS ONLY. You must sign-up to use the shooting ranges. Read the rules and sign up here.
The Izaak Walton League of America – Rockville Chapter is an all-volunteer nonprofit organization dedicated to "Conservation, Education, Recreation."
Founded in 1933 in Rockville, our chapter is now based on our scenic grounds amid Seneca Creek State Park. We are a diverse organization committed to a common-sense approach toward protecting our natural heritage and enjoying the great outdoors.
The Izaak Walton League of America (IWLA) was formed in 1922 to save the nation's wild lands for future generations. As one of the nation's earliest conservation groups, the Izaak Walton League of America has worked to restore watersheds, promote clean energy, protect wildlife habitat, and instill conservation ethics in outdoor recreationists.
The IWLA mission statement is:
"to conserve, maintain, protect and restore the soil, forest, water, and other natural resources of the United States and other lands; to promote means and opportunities for the education of the public with respect to such resources and their enjoyment and wholesome utilization".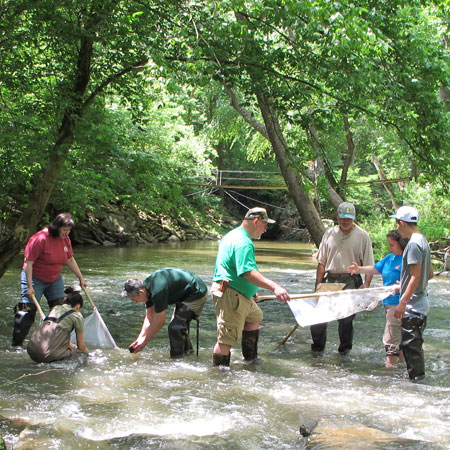 Our Chapter is Powered by Volunteers
Our members and their guests have 51+ acres and MANY activities to enjoy. The vast majority of maintaining our grounds and providing those activities is done by our member volunteers.
We share details about our activities in our Chapter newsletter, on our Google group, on our Calendar—and by word of mouth. We encourage all members–whether new or long-time—to "make the time" and get involved. There is always something that needs to be done and we rely on our members to take the lead and make it happen. Other members are always willing to help and to share their expertise. We are confident that you will find it a very rewarding experience.
Announcements, Activities and Events
Chapter Membership Meetings
Our General Membership Meetings are the first Friday of each month at our Chapter House where we introduce new Chapter Members, conduct Chapter business, and typically have an interesting speaker. The agenda is as follows:
6:00 p.m. Range Safety Training is conducted
7:00 p.m. Enjoy dinner before the meeting when a Member volunteer normally provides a great meal at a nominal cost
8:00 p.m. General Membership meeting starts
Chapter Officers and Directors
President: Lee Hays
First Vice President: Susan Cassell
Second Vice President: Rick Albert
Treasurer: Tom Selle
Membership Secretary: Judy Danish
Recording Secretary: Cindy Stevens
Corresponding Secretary: Kent Shaw
Rich Clement
Adam Fleming
Miles Greenbaum
Noel Gollehon
Ricardo Rodrigues
Greg Underhill
Tom Vegella
Ryck Lydecker
Rob McClelland
Tom Meyer
John Robertson
David Schwartzman
John Shea